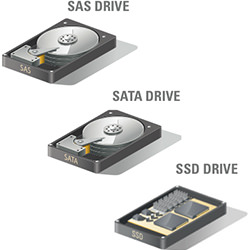 SATA, SAS and SSD drives vary in both their design and capabilities; for example, with one type better suited for non-intensive operations and another for its high access times.
SATA (Serial Advanced Technology Attachment) drives – have been around for years and can be found in servers in every data center globally. They're the least expensive of the three types, but are ideally suited for both consumer and server applications where personal or business data isn't mission critical or requires intensive operations with the least possible downtime.
It's worth noting that consumer SATA drives are not as durable as enterprise SATA or SAS drives. In fact, their error rate has been measured to be from ten to one hundred times greater. Ideal scenarios to use SATA drives would be for firewall apps, DNS, static websites, bulk storage for repositories, or print or file server apps.
SAS (Serial Attached SCSI) drives – are compatible with SCSI and SATA, but were designed for high performance enterprise use and heavy loads. Every component of a SAS drive is engineered for ruggedness, which makes SAS the ideal solution to safeguard the integrity of a client's or business's data (via its comprehensive ability to verify and error correct). Frequently, you find SAS drives with MTBF (mean time between failures) ratings over one million hours.
SAS drives reduce storage system failure rates by minimizing the number of physical interconnects, and by adding dual-port redundancy for failover.
Today's physically smaller SAS drives help data centers by improving their energy efficiency. Small Form-factor (SFF) drives help to reduce power and cooling by lowering Watts/GB. Plus, their smaller footprint allows translates into the ability to install more drives per system for greater performance density and redundancy.
While SAS drives have established deep roots in the high-performance drive market, they're now penetrating other tiers with capacity-optimized drives.
SSD (Solid State Drives) – are more shock resistant than hard disk drives because they don't have moving parts like spindles. They're also much faster, offering up to one hundred times the performance, and that encompasses its data access, file transfers and boot ups. Hard disk drives have to physically move their read/write heads to access data whereas that isn't the case with SSD drives.
On the consumer side:
Power consumption favors SSD drives at peak loads by almost one third the wattage. Less wattage translates into a longer battery life, which is extremely important for notebooks and laptops, which in turn means your computing environment is much cooler.
Not only do SSD drives run cooler, they work like Ninja's in stealth mode. They're nearly silent which means no more whirring sounds from your hard drive in the middle of a movie or gaming experience.
Tired of lugging around a heavy laptop or notebook? Flash based SSD drives weigh far less than conventional HDD's. I wish I had SSD drives in some of my earlier laptops because they were like carrying around a load of bricks.
SSD drives still cost more than SATA or SAS drives, but if you figure in increased productivity and other "soft dollar" advantages, that gap narrows.
On the server side:
SSD drives offer very impressive read access times, but their write access times don't rate as well. Even so, more and more web hosting providers are offering SSD drives in their VPS and dedicated server packages, and in their RAID offerings.
And then there are PCIe NVMe SSD drives
Peripheral Component Interface/Non Volatile Memory SSD Drives are many times faster than SATA SSD drives. For more information about NVMe SSD drives, check out an article I wrote last July titled, "PCIe NVMe will be the new norm of web hosting."
Brought to you by ProlimeHost
We've been in the web hosting industry for over a decade, helping hundreds of clients succeed in what they do best and that's running their business. We specialize in Virtual Private Servers (VPS) and dedicated servers, with data centers in Los Angeles, Denver & Singapore.
VPS Services: Lightning Fast SSD Virtual Servers
Our Virtual Private Servers all feature high performance Xeon processors and SSD storage in a RAID10 configuration to optimize your server's performance, which dramatically enhances visitor experiences on your site.
That speed is backed by unparalleled 24/7 support, featuring both outstanding response AND resolution times to maximize your uptime.
Now is the time to join the ProlimeHost virtual private server revolution.
Dedicated Servers: Backed by a 99.9% SLA network uptime guarantee
We only use enterprise-class hardware in our dedicated servers and offer a four (4) hour hardware replacement. Throw in IPMI for remote management, support for public and private networks, free operating system (OS) re-installs, and SATA, SAS & SSD (including NVMe) storage. Call +1 877 477 9454 or email us at Sales@ProlimeHost.com. We're here to help.