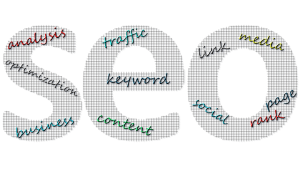 Keyword Analysis – Keywords are words in the content of your website that are relevant to what prospects would be searching for in Google and Bing queries, leading them to your site.
What are long tailed keywords?
Long tailed keywords are three and four-word keyword phrases which are very specific to whatever product or service you're selling. I prefer to call them keywords, then keyword phrases, and finally, extended keyword phrases.
When I first saw the term "long tailed," it threw me momentarily, but then I figured it was simply a buzzword some SEO analyst threw out there and it stuck.
Why are long tailed keywords or extended keyword phrases important?
When prospects use extended keyword phrases in search queries, they tend to know exactly what they're looking for, which makes it so much more likely that they'll buy whatever you're selling once they find your site.
An example – if your business sells exclusive hair products not found in the major chain stores, search queries for shampoo would lead prospects to millions of results, but probably none of them yours.
The search query is simply too general. And the catch here is that if that prospect is searching for shampoo, they're probably not a good prospect for your product anyway.
Using shampoo as a keyword in online advertisements will probably cost you a ton in advertising dollars, with little return on your investment. But if you sell Brocato hair products, a search query for Brocato Volumizing Tonic will rank much higher in the search engines, improving your visibility to the world, which in turn should increase your sales. And isn't that what the end game is for any marketing or SEO strategy?
Ranking higher organically
Ranking higher organically in the search engines certainly leads to increased traffic on your website, but conversions should always be what you're looking for. Those same keywords that led prospects to your site should also be attached to value add content on your website that intuitively ends with a call-to-action.
All too often, I see search queries lead me to homepages of websites, forcing me to delve deeper for what I was interested in, rather than taking me directly there.
On one hand, that could lower bounce rates, but as well it may cause prospects to move on to other search results rather than get quagmired navigating your site.
Taking extended keyword phrases one step further
To capture discriminating shoppers, you should be creating pages based on extended keyword phrases.
If you're a Salon, Car Repair Shop or Web Hosting Provider, there are hundreds of variations of extended keyword phrases that you could use to create unique pages. Each of these pages should have its own title, description meta tag, H1 header tag and value add content that emphasizes your product or service.
I'm not necessarily talking about eCommerce sites here, as there are very specific strategies that address how these types of sites should be optimized for SEO and conversions.
A word of caution
Don't go overboard on extended keyword phrases or you may "narrow" yourself out of business. Of course, if you have 500 visitors to your site looking for shampoo versus 100 visitors searching for Brocato products, which would you prefer? Site analytics should be matched to conversion ratios.
In the web hosting industry, a prime example would be services that are either unmanaged or managed, such as VPS or dedicated servers. Some prospects are capable of managing their own servers, but many others find that especially intimidating.
If you're hosting mission critical data, there should be no gray area in terms of how your server is hardened for security. Once a server is hacked, or infected with malware, or held for ransom, you become reactive instead of proactive.
In terms of keyword phrases, some examples could be; VPS essential managed services, VPS basic managed services and dedicated server full management services. Or you could simply use; managed VPS or managed dedicated server.
How do you know what extended keyword phrases to focus on?
The key here, really, is how to determine which extended keyword phrases have sufficient traffic for you to target. Research is paramount. Fortunately, there are tons of programs available. A simple Google or Bing search will reveal a plethora of free and premium programs designed specifically to address this.
One of those programs is keywordtool.io. This programs purports to help you find keywords that are hidden in Google's keyword planner. In any event, I would not limit yourself to just one analytic program. Try two or three and compare your results, and tweak as necessary.

BROUGHT TO YOU BY PROLIMEHOST
We've been in the web hosting industry for over a decade, helping hundreds of clients succeed in what they do best and that's running their business. We specialize in Virtual Private Servers (VPS) and dedicated servers, with data centers in Los Angeles, Denver & Singapore.
VPS SERVICES: LIGHTNING FAST SSD VIRTUAL SERVERS
Our Virtual Private Servers all feature high performance Xeon processors and SSD storage in a RAID10 configuration to optimize your server's performance, which dramatically enhances visitor experiences on your site.
That speed is backed by unparalleled 24/7 support, featuring both outstanding response AND resolution times to maximize your uptime.
Now is the time to join the ProlimeHost virtual private server revolution.
DEDICATED SERVERS: BACKED BY A 99.9% SLA NETWORK UPTIME GUARANTEE
We only use enterprise-class hardware in our dedicated servers [1] and offer a four (4) hour hardware replacement. Throw in IPMI for remote management, support for public and private networks, free operating system (OS) re-installs, and SATA, SAS & SSD (including NVMe) storage. Call 1-877-477-9454 or contact us [2]. For everything from gaming servers to cheap dedicated servers, we're here to help.