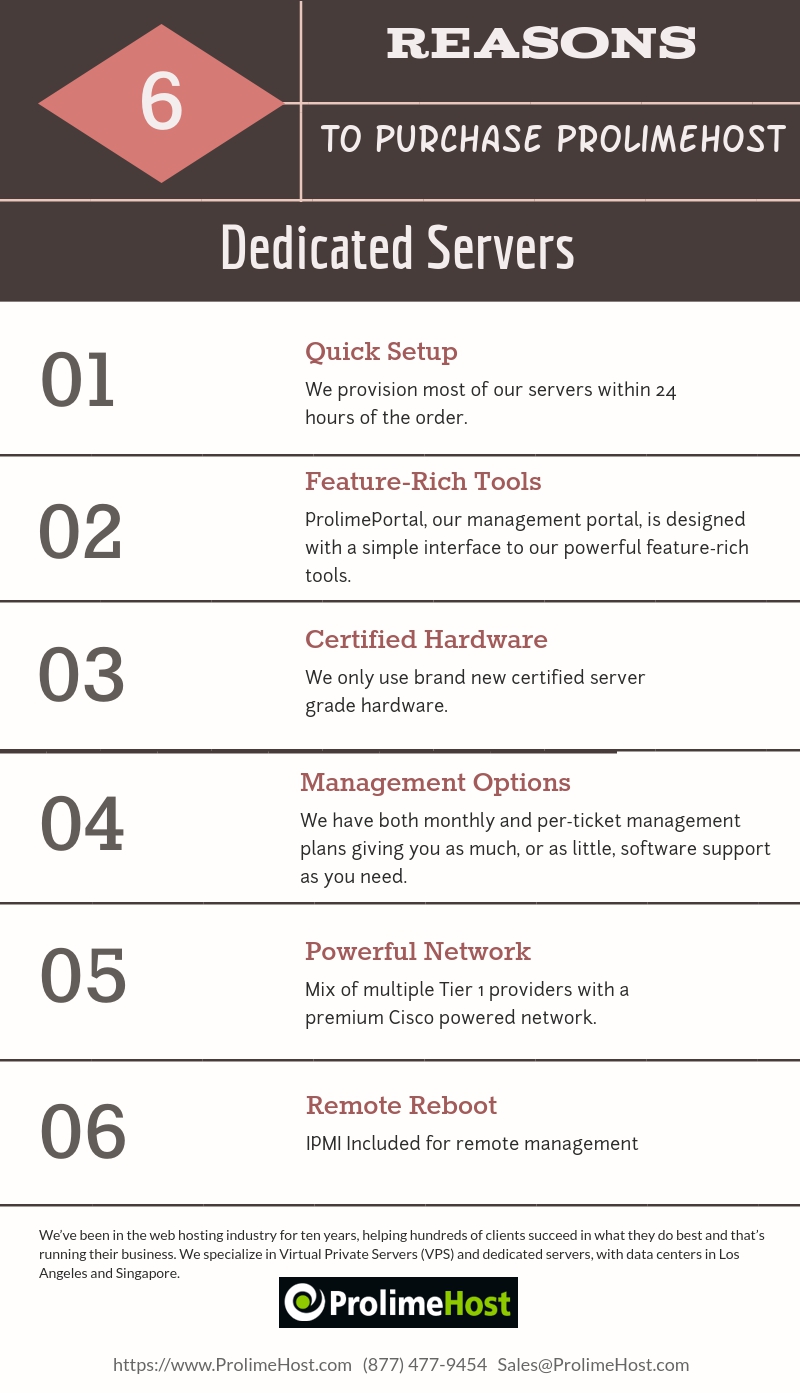 When you are performing research to determine who the best Dedicated Server Provider would be for your business, there are a number of factors to consider and evaluate, including; uptime, server class hardware, 24/7 support, best specification to price ratio, customization, ping times, infrastructure, clean IP addresses among many more aspects.
Why Choose ProlimeHost?

Quick Setup: We provision most of our servers within 24 hours of the order.
Feature-Rich Tools: ProlimePortal, our management portal, is designed with a simple interface to our powerful feature-rich tools.
Certified Hardware: We only use brand new certified server grade hardware.
Management Options: We have both monthly and per-ticket management plans giving you as much, or as little, software support as you need.
Powerful Network: Mix of multiple Tier 1 providers with a premium Cisco powered network. Our base network is built on six high end Cisco ASR 9000's and a Noction BGP route optimizer.
Remote Reboot: IPMI Included for remote management
Network & Data Center
ProlimeHost utilizes top tier data center infrastructure comprised of optimized high-performance Border Gateway Patrol (BGP) routes out of Los Angeles, CA, which provides our clients expedited routing to every location.
Our network optimizes BGP routes in real time by employing a Noction Intelligent Routing Platform (IRP) uplinked to eleven (11) different carriers. Those paths are optimized as needed so that we can seamlessly provide our customers with the best possible routes to enhance their traffic.
Noction IRP actively gathers metrics such as latency, historical reliability, packet loss and maximum peer capacity. It then calculates best cost and performance route optimization.
Norton IRP also dramatically reduces human error by automating the BGP optimization process. Without it, engineers would need to run countless probes each and every hour to decipher better traffic routes, coupling that against historical performance. All of this happens at the network edge in a non-intrusive fashion to accurately detect congestion and outages.
Our Los Angeles data center is using SAS 70 type II with N+1 redundancy across the network. We utilize redundant AC power, UPS quipped with 2 x 150KvA backup units, and diesel generators for 100% power availability to our equipment.
We hire certified, well trained professional to meet the complex enterprise day to day operational demands.
Our network infrastructure is designed for unmatched reliability, which makes our network exceptionally difficult to beat.
Add six (6) high end Cisco ASR 9000 Series Aggregation Services Routers, video monitoring, an electronic security system, a top-of- the-line fault tolerant, redundant power system, all fully managed by 24 hour onsite network engineers – and our clients are assured of maximum connectivity 24 hours a day, 365 days a year.
BROUGHT TO YOU BY PROLIMEHOST
We've been in the web hosting industry for over a decade, helping hundreds of clients succeed in what they do best and that's running their business. We specialize in Virtual Private Servers (VPS) and dedicated servers, with data centers in Los Angeles, Denver & Singapore.
VPS SERVICES: LIGHTNING FAST SSD VIRTUAL SERVERS
Our Virtual Private Servers all feature high performance Xeon processors and SSD storage in a RAID10 configuration to optimize your server's performance, which dramatically enhances visitor experiences on your site.
That speed is backed by unparalleled 24/7 support, featuring both outstanding response AND resolution times to maximize your uptime.
Now is the time to join the ProlimeHost virtual private server revolution.
DEDICATED SERVERS: BACKED BY A 99.9% SLA NETWORK UPTIME GUARANTEE
We only use enterprise-class hardware in our dedicated servers and offer a four (4) hour hardware replacement. Throw in IPMI for remote management, support for public and private networks, free operating system (OS) re-installs, and SATA, SAS & SSD (including NVMe) storage. Call 1-877-477-9454 or contact us. For everything from gaming servers to cheap dedicated servers, we're here to help.