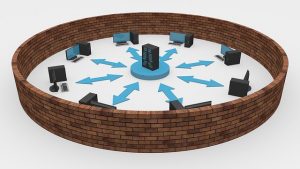 Noction automates BGP which helps improve multi-homed network performance, essentially making it a vastly improved version of BGP.
BGP has been around for decades
When BGP was first formalized decades ago, the world was just starting to realize the enormity of the Internet and the possibilities it presented, in terms of capability and size. Unfortunately, time marches on and the limitations of this protocol started displaying its limitations, especially when dealing with today's incredibly complex networks.
BGP on its own is not easily updated on-the-fly
While BGP directs routing based on information exchange, it is also influenced by route attributes such as the origin, AS path, local preference, aggregator, next hop and others. Those attributes can be set by network engineers, but updating them on-the-fly presents its own unique set of issues. For example, when customizing BGP for the selected outbound route in a multi-homed network, the selected outbound route would typically be the route with higher preference locally, even if that path might experience congestion.
Having network engineers manually monitor network performance – good or bad?
If you're directing network engineers to constantly (manually) look for failures and congestions, they're forced to deal with rapid variances in environments. Toward that end, they need to constantly test and collect data via probes like ping and traceroute (and others) to determine packet loss, available bandwidth, end-to-end latency and jitter. That becomes increasingly difficult when BGP directs a change in routing.
IRP improves network performance
The Noction Intelligent Routing Platform not only improves network performance, it also reduces operational overhead.
What types of issues are typically encountered by large enterprises and ISPs?
The first and foremost issue encountered is uptime. It's critically important to provide reliable services across the network 100% of the time. Toward that end, network congestion and problematic routes need to be addressed and resolved quickly. Those paths with increased latency and higher than acceptable packet loss need to be avoided, so that they're ultimately offering consistent throughput across low latency routes, all the while avoiding exceeding committed bandwidth.
Noction IRP to the rescue
All of those aforementioned issues are addressed by Noction IRP by:
Automating dynamic route updates depending on real-time performance of the network
Defining routing policies (improves control of ISP usage and cost)
Automatically throttling outbound traffic to committed levels for the ISP
Automatically balancing loads among multiple providers
And by customizing routing policies predicated by business goals.
Noction leverages existing information to save time
Noction actually leverages existing connectivity with information that is collected dynamically, so that network engineers don't need to waste their valuable time running down 1000's of probes to troubleshoot network failures or congestion, or simply to decide best path at that moment. This also helps eliminate human error.
What Noction does
Noction actively probes remote prefixes for latency, historical reliability, packet loss, throughput and capacity, then calculates how to optimize the network to improve routing. It works on the network edge performing non-intrusive traffic analysis, probing affected routers, then automatically reroutes traffic. It effectively reduces latency and packet loss by 24% and 89%, respectively.
Monitoring and troubleshooting
IRP helps network engineers troubleshoot performance issues much quicker, providing real-time views, then sending out notifications when issues do happen.
Noction optimizes costs
Noction optimizes costs by balancing traffic (figuring in commit rate), ensuring the correct amount of traffic is directed to the right ISP.
IRP is not intrusive
Because IRP sits outside of the traffic path, there's no adverse effect on the network, and even if the IRP gets switched OFF (or fails), the edge router falls back to normal routing without any downtime.

Brought to you by ProlimeHost
We've been in the web hosting industry for over a decade, helping hundreds of clients succeed in what they do best and that's running their business. We specialize in Virtual Private Servers (VPS) and dedicated servers, with data centers in Los Angeles, Denver & Singapore.
VPS Services: Lightning Fast SSD Virtual Servers
Our Virtual Private Servers all feature high performance Xeon processors and SSD storage in a RAID10 configuration to optimize your server's performance, which dramatically enhances visitor experiences on your site.
That speed is backed by unparalleled 24/7 support, featuring both outstanding response AND resolution times to maximize your uptime.
Now is the time to join the ProlimeHost virtual private server revolution.
Dedicated Servers: Backed by a 99.9% SLA network uptime guarantee
We only use enterprise-class hardware in our dedicated servers and offer a four (4) hour hardware replacement. Throw in IPMI for remote management, support for public and private networks, free operating system (OS) re-installs, and SATA, SAS & SSD (including NVMe) storage. Call +1 877 477 9454 or email us at Sales@ProlimeHost.com. We're here to help.