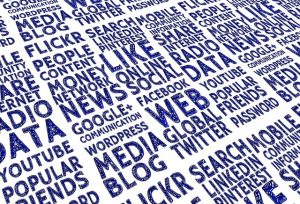 For those who utilize social media marketing to enhance their business or organization's revenues or brand, how do you keep track of what's going on under the hood? That's to say, how do you measure results against your marketing efforts?
I know most will say, well, Google Analytics or some SEO tool like SpyFu. While these are fantastic tools, what we're proposing here is that you at least check out some apps that will bring all those pistons into sync – to maximize the return on your social media marketing efforts. In no particular order:
First up – Brand Mentions
Are you looking for a search & analysis tool that will provide you a single stream of info from content that has been generated in over 100 social media portals including the biggies like Twitter, YouTube and Facebook? Brand Mentions does that in real time. Never again miss what others are saying about your firm or organization, or you – or even that new product or service you just released. This app supplies strength, passion, sentiment and reach percentages, plus top keywords and users.
Next – Boardreader
As its name suggests, Boardreader focuses on allowing its users to search for discussions, scanning any number of message boards at the same time. It essentially creates a global searchable repository. This works well to narrow in on what really interests its members.
On to – Pinterest Analytics
How many haven't really figured out how to use Pinterest yet, at least to maximize it for best ROI? Raise your hands. Ok, I can't see your hands, but this app can. It helps you see which of your pins are performing and how they're trending on a time line. I've always said you can't maximize what you can't measure, so this app falls right in line allowing you to see who are viewing your pins, pinning from your site and yes, clicking on your content.
And – Meltwater IceRocket
Wow, this app takes me back memory lane. It allows you to view keywords that have been mentioned as they've historically trended on blogs. Want to get your blog into IceRocket's high-priority indexing queue? Simply enter your blog's URL on their home page and you're good to go.
And – Quintly
Looking for a professional app? Quintly qualifies! It monitors and analyzes social media portals, tracking and comparing how well your marketing efforts are performing. I've always said that to excel, you need to outperform your competition. This app allows you to benchmark your numbers against them, whether you're using Twitter or Facebook. Get valuable competitor insights and data like never seen before.
And – ZoomSphere
Ever heard of Facebook Reactions analytics? This app incorporates that into their platform, essentially making it an all-encompassing digital marketing tool. But hold on – ZoomSphere provides an impressive array of complex analytics spanning across a myriad of social media portals.
Need teamwork functionality? ZoomSphere offers a scheduling and posting calendar, plus workflow and collaboration tools. Need to know how you fare against your competitors? This app can show side-by-side comparisons. Need to create reports quickly? How about an unlimited ability to do just that? All for one monthly price.
And – Buffer
Buffer does just what it implies. It's a more efficient way to schedule the content you want, filling your specific buffer once, then posting that throughout the day, which allows you to have a consistent presence around the clock. It also allows you to manage profiles and company pages for LinkedIn, Facebook, Twitter and Google+. It's a better way to share on social media. Do you need 10 connected social accounts or 200? They have it.
And – Buzzsumo
Part of succeeding in social media marketing is knowing what your competition is doing. This app analyzes what content works best for your competition, including key influencers. Want to be the 1st to view content that mentions your keywords. That's in this app, plus detailed comparisons.
And – Klout
This app allows people to both understand and leverage their influence. That's what drives marketing efforts.
And finally – HootSuite
Engage, collaborate, analyze and secure – this app allows you to monitor and post to a myriad of social networks, plus create custom reports that you can share. Need to track sentiment? Follower growth? This app has it.
If you desire to schedule your messages to be posted at a later time (when your audience is actually looking), welcome to HootSuite.
Plus, it offers the ability to discover what your audience is saying about your product or service, and engage them. How great is that?
Concerned about security (everyone should be)? Hootsuite features permission levels, secure logins and profile protections.
Brought to you by ProlimeHost
We've been in the web hosting industry for ten years, helping hundreds of clients succeed in what they do best and that's running their business. We specialize in dedicated servers, with data centers in Los Angeles, Denver and Singapore.
The E3 1275 v5 processor is now available at great pricing, giving you the ability to add up to 64GB of DDR4 ECC RAM. Call +1 877 477 9454 or email us at Sales@ProlimeHost.com. We're here to help.