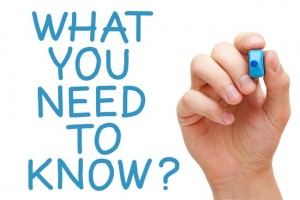 When you're in school, you typically enroll in lots of different classes. Why? Either those courses are required to earn a specific type of certificate or you have a real interest in that topic.
For example, you're planning a trip to Germany and want to learn the local language, so you enroll in courses to learn to speak and write German. You know you don't know how to speak German so this is extremely important to you.
I don't speak German, nor do I  ever plan to visit Germany, so what I don't know about their language isn't that important to me. So where am I going with this?
On a deeper level, it's important to know what you don't know
In the earlier example, you knew that you didn't know how to speak German, but what if you didn't know it would help on your trip? That's easy. You know it will help. On a deeper level, what you don't know could get you in trouble though, like violating their local customs.
In this example, it would be prudent to not just learn the language, but everything about Germany; what do they love and what do they frown on?
How does this relate to the web hosting industry?
The web hosting industry makes a lot of assumptions about what their prospects or clients know, and for the most part, think they know more than they really do. Granted, some hosting clients are well versed in CPU models, RAM, bandwidth, cloud scenarios and managed services, but if trouble tickets are telling the truth, quite a few still need help with simple stuff like setting up email.
The more successful hosting providers understand this upfront and offer a knowledgebase on their site that addresses the most frequently asked questions.
You could be putting your business at risk if you don't find out what you don't know
From the client's point of view, price is very important because, let's face it, times are tough and we all need to get the most bang for our buck. Price alone though doesn't cut the cake. Why? There are infrastructure variables hiding behind that price point when we're discussing web hosting.
A teenager can purchase a cheap VPS and start selling plans on their summer vacation, and design a hosting site that compares to hosting providers that own and operate multiple data centers. How would you as a consumer know the difference? And then where would your business be come September when they're back in school and can only reply to trouble tickets on weekends, if then?
What if you don't have a clue what you don't know?
If you find yourself lost in a world of terms you don't understand like shared hosting, virtual private servers, cloud hosting or colocation, start by performing Google queries for hosting providers and compare multiple sites, including their knowledgebase articles. Don't just acknowledge that they have one, rather read through some of them, and then take it one step further.
Check the hosting provider's site for Live Chat
Surprisingly, a lot of hosting providers don't offer Live Chat, or if they do, it's only on the sales side, or it's not actually "Live" 24/7, just during their working hours. Most business owners know upfront what type of site they'd like to have online, but don't know what type of hosting plan would match their requirements, and Live Chat offers them that opportunity to ask questions before they purchase a plan.
So what do you ask of potential hosting providers?
I'd recommend asking how many technicians they have on their staff, at levels 1, 2 and 3 and how they escalate trouble tickets. If your site goes down after normal working hours, you don't want a level one tech telling you you'll have to wait until a supervisor comes in next morning to get you back online.
Ask how long they've been in business and how many clients they have. If they've only been around for a year or two and have less than ten clients, that should raise red flags.
Ask if they have a migration path if your business grows. If they only offer shared hosting and you're projecting growing your traffic to where you'll need a dedicated server in the next three years, keep looking.
And last, listen to how each prospective hosting provider responds to your questions. You may not be able to read their body language, but you can gauge the tone of their voice and how you perceive their interest in your business.
The real measure of a great hosting provider is not the plans they offer, rather how they treat their clients. Cross-industry, companies that survive the test of time are those that realize the lifetime value of their clients.
Brought to you by ProlimeHost
We've been in the web hosting industry for over a decade, helping hundreds of clients succeed in what they do best and that's running their business. We specialize in Virtual Private Servers (VPS) and dedicated servers, with data centers in Los Angeles, Denver & Singapore.
VPS Services: Lightning Fast SSD Virtual Servers
Our Virtual Private Servers all feature high performance Xeon processors and SSD storage in a RAID10 configuration to optimize your server's performance, which dramatically enhances visitor experiences on your site.
That speed is backed by unparalleled 24/7 support, featuring both outstanding response AND resolution times to maximize your uptime.
Now is the time to join the ProlimeHost virtual private server revolution.
Dedicated Servers: Backed by a 99.9% SLA network uptime guarantee
We only use enterprise-class hardware in our dedicated servers and offer a four (4) hour hardware replacement. Throw in IPMI for remote management, support for public and private networks, free operating system (OS) re-installs, and SATA, SAS & SSD (including NVMe) storage. Call +1 877 477 9454 or email us at Sales@ProlimeHost.com. We're here to help.