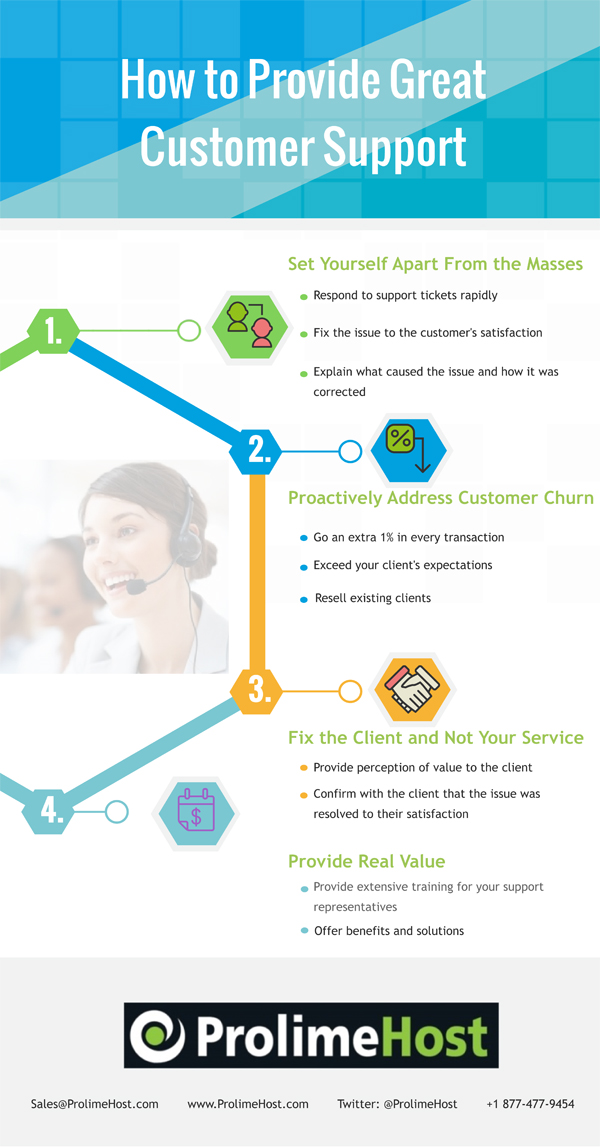 Set yourself apart from the masses
Customer support encompasses so much more than simply responding to a service ticket, fixing the issue and closing it out without explanation. I see so many entrepreneurs asking how to develop a niche that sets them apart from the masses. Of course, the sales offer is KING, but great customer support keeps you on your throne.
Addressing customer churn
Certainly it's the long term goal of every business to minimize customer churn. The expense to sign on new clients way exceeds the cost to retain and resell existing clients. Every interaction with your clients, from online live chat, sales and service, to the accounting department shares a responsibility to exceed your client's expectations, by going that extra one percent – every time.
Fix the client and not your product or service. 
Ages ago when I was employed as a technician by Varityper, our titles were tech rep 1, tech rep 2 and so on. That was changed to Customer Engineer. When you troubleshoot a client's problem, you're not fixing their typesetter, printer, broadband connection, dedicated server, website or whatever your business provides – you're fixing the client. And in doing so – you need to give at least the perception of value.
Providing value
Can this be done on the fly? Sure, but not with great results. Good customer support representatives go through extensive training for the sole purpose of maximizing the client's perception of their business. They offer benefits and solutions. This pays off in reduced advertising cost, minimized churn, customer loyalty and "branding."
Are you rememberable? 
Are you rememberable in your client's eyes? Do you 'own' your business niche? Or are your customers simply satisfied clients? A certain level of support is expected from every vendor. On your customer surveys, do you ask the question, "Have we exceeded your expectations?"
Brought to you by ProlimeHost
We've been in the web hosting industry for ten years, helping hundreds of clients succeed in what they do best and that's running their business. We specialize in dedicated servers, with data centers in Los Angeles, Phoenix, Denver and Singapore. The E3 1275 v5 processor is now available at great pricing, giving you the ability to add up to 64GB of DDR4 ECC RAM. Call +1 877 477 9454 or email us at Sales@ProlimeHost.com. We're here to help.

Director of Sales and New Business Development
at
ProlimeHost
Steve's been in the web hosting industry since 1997, helping clients optimize their online solutions from shared hosting and colocation to VPS and dedicated servers.

ProlimeHost specializes in dedicated servers, with data centers in Los Angeles, Utah and Denver. Call +1 877 477 9454 or email us at Sales@ProlimeHost.com. We're here to help.