From A to Z, what are the different types of web hosting services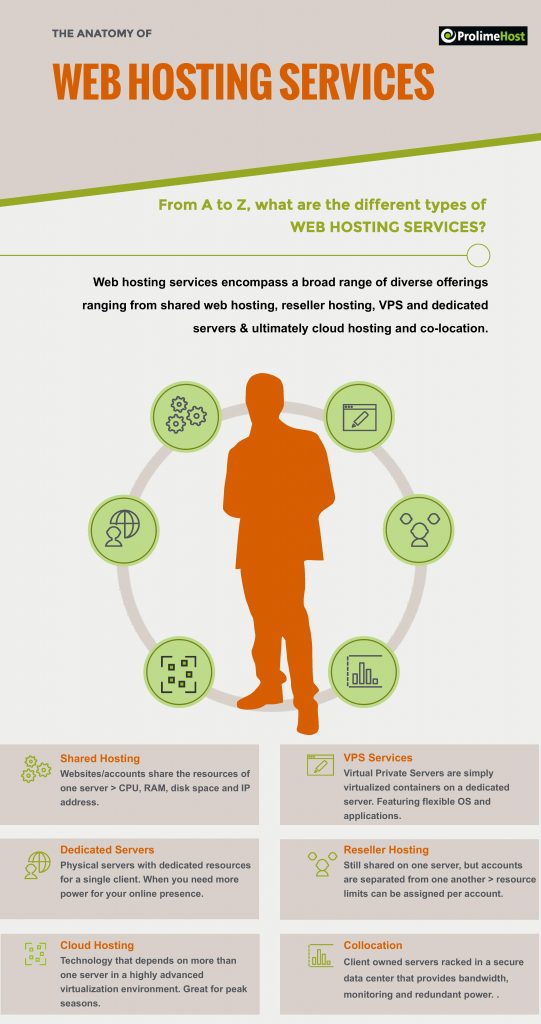 Not every web hosting provider offers each of these services, and I should note that I omitted semi-dedicated as one one of the options. Essentially, web hosting services are broken down into shared, VPS and dedicated servers, reseller, cloud and collocation.
Shared Hosting
Shared hosting is the most common type of web hosting and also the least expensive. Websites/accounts share the resources of one server, specifically it's CPU, RAM, disk space and IP address. They also share one Internet port which is typically either 100Mbps, 1Gbps or 10Gbps. Clients are normally not aware of the specifications of the server itself. The provider manages the server and the client manages their website. The most popular control panel for shared accounts is cPanel.
Reseller Hosting
Reseller hosting is still a form of shared hosting, but each account is separated from one another. A number of resources are still shared, but this type of hosting prevents hacks on one account from being spread to other accounts; for example, a compromised WordPress site affecting another client's website.
Entrepreneurs just getting into the web hosting business typically start with reseller plans as the cost to entry is exceptionally low. They'll purchase a reseller account from an up-line provider and then sell shared hosting accounts to their own clients.
Resellers still have to conform to their up-lines Terms of Service.
VPS Services
With VPS services, you can do pretty much anything you can do on a dedicated server, limited only by the resources set up in your virtualized environment. You can install any number of Operating Systems and applications to fit your exact hosting requirements. VPS specs start with one virtual CPU core on the least expensive plan. Each additional virtual core costs incrementally more – and the same with RAM and disk space.
More and more VPS packages are being provisioned with SSD drives which outperform spinning HDD disks, making VPS services very performance efficient. Unmanaged KVM SSD VPS packages are currently trending, costing less than $20 per month.
Dedicated Servers
Some say that dedicated servers are on their way out, and that cloud hosting is the wave of the future. While cloud hosting is trending, dedicated servers are here to stay for the foreseeable future, simply because some hosting applications / requirements don't play well in the cloud.
In a dedicated environment, the resources of that server are 100% dedicated to one client, including the CPU, RAM and disk space. If you want to install Windows Server or CentOS, that's up to you.
There's a lot of flexibility in how a dedicated server can be set up to optimize its performance. Dedicated game servers for instance, should be configured for best clock speed and latency versus corporate servers where number crunching and other corporate stuff take precedence.
Cloud Services
Cloud services don't actually take place in a cloud somewhere, rather in an advanced virtualized environment with multiple dedicated servers. Cloud services are designed to eliminate multiple points of failures for greater uptime, but they're also highly scalable, and this benefits businesses that experience seasonal peaks in their revenues, like during the Christmas season.
Colocation Services
Client owned servers racked in remote secure data centers are said to be collocated. Typically, a rack can hold up to 42 1U servers, but collocation providers normally rent rack space in 1U, 2U, 10U, half rack and full rack increments. Full racks can cost more than $1000 per month. I've seen 1U rack space as low as $30 per month.
Of course, with colocation, the client has to purchase one or more dedicated servers, and then rack them themselves or hire someone else to do that for them. The server is theirs, so if a hard drive or motherboard fails, the replacement is their responsibility. Most colocation providers offer hands on services at a cost, but it's best to keep spare drives, in particular, on-site, because there's no guarantee that the colocation provider has parts on hand to match your server.
Businesses can include these servers in their depreciation schedules for tax reporting.
BROUGHT TO YOU BY PROLIMEHOST
We've been in the web hosting industry for over a decade, helping hundreds of clients succeed in what they do best and that's running their business. We specialize in Virtual Private Servers (VPS) and dedicated servers, with data centers in Los Angeles, Denver & Singapore.
VPS SERVICES: LIGHTNING FAST SSD VIRTUAL SERVERS
Our Virtual Private Servers all feature high performance Xeon processors and SSD storage in a RAID10 configuration to optimize your server's performance, which dramatically enhances visitor experiences on your site.
That speed is backed by unparalleled 24/7 support, featuring both outstanding response AND resolution times to maximize your uptime.
Now is the time to join the ProlimeHost virtual private server revolution.
DEDICATED SERVERS: BACKED BY A 99.9% SLA NETWORK UPTIME GUARANTEE
We only use enterprise-class hardware in our dedicated servers and offer a four (4) hour hardware replacement. Throw in IPMI for remote management, support for public and private networks, free operating system (OS) re-installs, and SATA, SAS & SSD (including NVMe) storage. Call 1-877-477-9454 or contact us. For everything from gaming servers to cheap dedicated servers, we're here to help.