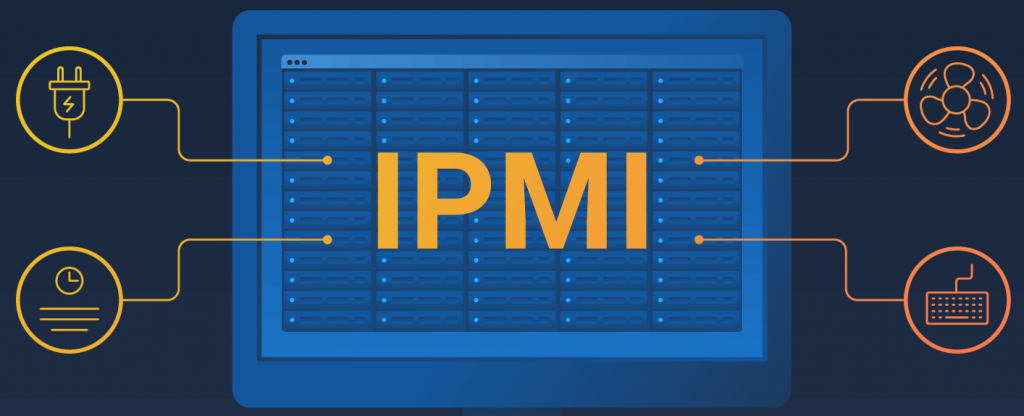 IPMI is an interface that helps network managers manage their servers. It was launched in 1998 by the IPMI forum which today hosts over two hundred vendors.
The Intelligent Platform Management Interface (IPMI) is open standard
There are lots and lots of products on the market at the OS level that are designed to help network admins manage their servers, some more costly than others. As a whole, the hosting industry came together to create a common management standard that is open standard.
What is a Baseboard Management Controller? (BMC)
A BMC is a dedicated chip/controller that runs IPMI. It defines exactly how admins control system components, monitor system sensors and hardware. With this, admins can monitor the health of their servers for events related to fans, voltages, temperatures, hardware errors and chassis intrusion. Hardware errors could be those related to either memory or network. Logs of these events are used to launch remote management and recovery.
The IPMI Forum
The vendors that make up the IPMI forum work in unison to constantly update and implement management specs for stuff like telecommunications equipment, network equipment, storage devices and of course, servers. Recent advancements have included VLAN, security and blade support.
IPMI works independently from the OS
Even when the OS hangs or the server is powered down, IPMI still affords admins the ability to diagnose, monitor, manage and recover their systems. Its alert system can notify admins before hardware issues actually happen. A particularly useful feature of IPMI is one that allows admins to use multi-layer passwords and privileges together with on-the-wire encryption and authentication.
Autonomous characteristics
IPMI uses an agentless management subsystem, effectively allowing it to run separately, independent of the condition or type of BIOS, CPU and OS. This eliminates limitations that are associated with OS dependent agents (agent based).
IPMI version 2.0
For systems that are compliant with 2.0, communication can be facilitated via serial over LAN. Those systems also typically include KVM over IP and remote virtual media. In addition to utilizing a separate dedicated management LAN connection, it permits a "side-band" management LAN connection. This helps to reduce costs, but at the expense of limited bandwidth. This helps for checking the event log and performing power cycles. If you need to remotely install an OS though, you'll need a full out of band approach.
BMC at the heart of IPMI
BMC chips are developed and marketed by several vendors. Some embedded apps may have limited quantities of memory requiring optimized firmware code. BMCs that are highly integrated can provide incredibly complex instructions, offering complete out of band functionality.
The BMC is essentially the intelligence in this architecture, managing the interface between the platform hardware and system management software. BMC connections over LAN might or might not be encrypted. This depends solely according to the security protocols that have been created by the user.
IPMI role based access
It's possible to set up role based access in order to comply with current security issues. Admin, operator and user roles can be utilized.
The user role is limited to read only access, plus they have no option to remote control power cycles, or view or log into the main CPU. This prevents hackers from obtaining access to information that is confidential and gives them no control whatsoever.
In contrast, the operator role can be utilized when a system hangs, allowing them to create a dump file and either reboot or perform a power cycle.
Admins can configure the BMC itself.
IPMI has had vulnerabilities
Due to various security concerns, like cipher zero, it's recommended to install your IPMI management port on a dedicated connection (LAN or VLAN).
BROUGHT TO YOU BY PROLIMEHOST
We've been in the web hosting industry for over a decade, helping hundreds of clients succeed in what they do best and that's running their business. We specialize in Virtual Private Servers (VPS) and dedicated servers, with data centers in Los Angeles, Denver & Singapore.
VPS SERVICES: LIGHTNING FAST SSD VIRTUAL SERVERS
Our Virtual Private Servers all feature high performance Xeon processors and SSD storage in a RAID10 configuration to optimize your server's performance, which dramatically enhances visitor experiences on your site.
That speed is backed by unparalleled 24/7 support, featuring both outstanding response AND resolution times to maximize your uptime.
Now is the time to join the ProlimeHost virtual private server revolution.
DEDICATED SERVERS: BACKED BY A 99.9% SLA NETWORK UPTIME GUARANTEE
We only use enterprise-class hardware in our dedicated servers and offer a four (4) hour hardware replacement. Throw in IPMI for remote management, support for public and private networks, free operating system (OS) re-installs, and SATA, SAS & SSD (including NVMe) storage. Call 1-877-477-9454 or contact us. For everything from gaming servers to cheap dedicated servers, we're here to help.
ASIA OPTIMIZED SERVERS: IMPROVING CONNECTION SPEED AND QUALITY
Procuring an Asia optimized server improves the connection speed and quality between the server and the users in Asia or China. This can reduce latency, packet loss, jitter, and bandwidth issues that can affect the performance and reliability of the server and the applications hosted on it. For more information, please call 1-877-477-9454 or contact us.