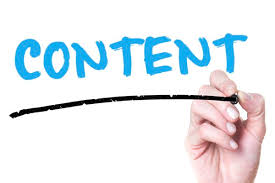 First, writing relevant content that drives traffic AND offers a good return on your investment encompasses embracing any number of variables. What's currently trending in your specific industry that you could focus on to contribute value-add info for your target audience that could actually produce some tangible revenue?
This really does entail so much more than just simply writing about your products and services because you need to have a (current) grasp of what drives prospects to even search for the types of products and services you sell. If your goal is to maximize profits, I do offer some tips here that should put you on the right path.
Start by mapping out keywords relevant to your business
By keywords I mean targeted keywords or keyword phrases that directly relate not just to your products and services, but also to the type of audience you target, the geographical culture there and any other marketing campaigns that you have ongoing.
RankBrain (one of Google's ranking factors) attempts to filter differences in cultures to guestimate what query results surfers are looking for. Content absolutely needs to be created in conjunction with those keywords and keyword phrases to maximize your SEO efforts.
Let me take one step backward to connect traffic to organic search results
I know you've all seen the sponsored ads that pop up on Google search queries. Heat maps that measure reading patterns have repeated shown that those ads are consistently glazed over in favor of the first five organic listings. What you want is to be listed in those first five results and if not that, at least on page one.
The title and description listed there will greatly influence the click through rates to your site, and that will require some on-site SEO optimization. I see so many listings that have NO call-to-action in their description. When I see members on various forums say that you have just 5 seconds to capture your visitor's attention once they reach your site, I contend this really begins with the search listing itself.
I know that I personally scan the top few SERPS (search engine results pages) listings to determine which best matches my search query. Sponsored ads seem to address a broader spectrum of viewers, and I suspect surfers have become increasingly more adept over the years at drilling down their queries to get the results they're really looking for.
Why would anyone search just for "swimming pools" if they were interested in purchasing one in their local area? They'd get millions upon millions of results, most of which would not be relevant. I envision them typing in queries like, "baby grand piano for sale in Scottsdale, Arizona" – you know, someplace close to where they live. If you're selling baby grand pianos there, you're golden, especially if you have value-add content about baby grand pianos on your site. Don't forget to add your unique selling proposition and ask for the sale on the site.
Why reinvent the wheel? Use your competitor's info to your advantage!
Take a look at what your competitors are doing – the ones that are ranked above you on SERPS. Analyze their content, design, graphics, backlinks and ads and then replicate those that apply. There's a very good tool that helps capture their data, but it does come with a monthly fee (I still highly recommend it). It's called SpyFu. It'll give you their organic keywords, their estimated monthly SEO clicks, their inbound clicks from Google (organic vs paid), their paid AdWords, their estimated monthly PPC clicks and the list goes on and on. If you want to know what their estimated monthly AdWords budget is, it's on there. Do you want to know what keywords of theirs are on page one of Google's search results, or even which ones just fell off, it's on there. Is that good stuff to know? Absolutely!
And last, but not least, please stay on top of social media trends
Don't leave any opportunity on the table. Your competitors are there – guaranteed. Facebook and Twitter are two of the top social media sites to focus on for trending info in every industry. If your content simply matches whatever is currently trending, create something new and refreshing. Think outside of the box.
Brought to you by ProlimeHost
We've been in the web hosting industry for over a decade, helping hundreds of clients succeed in what they do best and that's running their business. We specialize in Virtual Private Servers (VPS) and dedicated servers, with data centers in Los Angeles, Denver & Singapore.
VPS Services: Lightning Fast SSD Virtual Servers
Our Virtual Private Servers all feature high performance Xeon processors and SSD storage in a RAID10 configuration to optimize your server's performance, which dramatically enhances visitor experiences on your site.
That speed is backed by unparalleled 24/7 support, featuring both outstanding response AND resolution times to maximize your uptime.
Now is the time to join the ProlimeHost virtual private server revolution.
Dedicated Servers: Backed by a 99.9% SLA network uptime guarantee
We only use enterprise-class hardware in our dedicated servers and offer a four (4) hour hardware replacement. Throw in IPMI for remote management, support for public and private networks, free operating system (OS) re-installs, and SATA, SAS & SSD (including NVMe) storage. Call +1 877 477 9454 or email us at Sales@ProlimeHost.com. We're here to help.