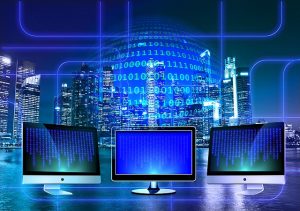 One of the reasons we selected our Denver Data Center to offer servers from is its infrastructure because we need dedicated services for our clients to be highly reliable. Online accessibility is key in this industry so we take great pains to maintain 100% uptime at all of our data centers.
Suitable for 24/7 continuous operations
This is a 4,000 square foot data center (sixteen years old), centrally located in downtown Denver, Colorado. It features all of the typical bells and whistles that you would expect to find in a reliable, robust environment designed for 24×7 continuous operations.
Power Specifications
The power for this data center is located in Denver's Central Business District utility grid which is well known for providing some of the cleanest and most reliable power in the entire nation.
Since 2007, there has been nearly 100% utility power uptime. For added protection on those rare occasions when problems do arise, UPS backed power from distinct, disparate UPS systems keep everything online.
Backup UPS systems
The primary UPS is a Mitsubishi 375KVA. For 2N power, or "B" side power, a smaller PowerWare 160KVA unit fulfills that function. These UPS units deliver conditioned power to the entire facility, immediately providing uninterrupted power in the event of a utility power outage.
Both UPS units have bypass wrap around transfer switches, which allows for intrusive maintenance on them without any interruption to critical power.
Backup Generators
Both A and B power is backed up by individual 250KW generators, which can power the data center for over 24 hours, in the event of an extended utility outage. Additionally, routine maintenance is performed on both generators to ensure they will function properly when needed.
Precision Environmental Controls
Cooling and humidity are controlled by 7 Liebert CRAC units, featuring N+1 redundancy. These CRAC units keep the operating environment in the data center at 72 degrees and 40% humidity.
To ensure that optimal cooling and air circulation is available 24/7, air flow studies are conducted, and an analysis with infrared heat sensing cameras is performed on a regular basis.
There are also local and remote environmental monitoring systems in place.
Security
This facility is located within a building that has 24×7 onsite security. Outside of regular business hours, all individuals entering or exiting the building are required to present building credentials and sign in with onsite security staff.
Staffing
The data center itself is staffed 24×7 and features independent video surveillance and access control systems to prevent unauthorized access to the secure data center rooms.
Fire Detection and Suppression
Fire detection within the data center is provided by an early detection alarm system monitored both within an office suite and by the building's 24×7 security staff.
The data center has smoke detectors above and below floor. The fire suppression system is a pre-action, dry pipe which would discharge water only from the appropriate locations should the heat in the data center increase enough to trigger a fire sprinkler head.
Monitoring and Maintenance
All data center infrastructure is monitored via a centralized building monitoring system and via routine visual inspections. The entire infrastructure is also maintained at or above recommended maintenance intervals to proactively address any potential issues before they can become full blown problems.
BROUGHT TO YOU BY PROLIMEHOST
We've been in the web hosting industry for over a decade, helping hundreds of clients succeed in what they do best and that's running their business. We specialize in Virtual Private Servers (VPS) and dedicated servers, with data centers in Los Angeles, Denver & Singapore.
VPS SERVICES: LIGHTNING FAST SSD VIRTUAL SERVERS
Our Virtual Private Servers all feature high performance Xeon processors and SSD storage in a RAID10 configuration to optimize your server's performance, which dramatically enhances visitor experiences on your site.
That speed is backed by unparalleled 24/7 support, featuring both outstanding response AND resolution times to maximize your uptime.
Now is the time to join the ProlimeHost virtual private server revolution.
DEDICATED SERVERS: BACKED BY A 99.9% SLA NETWORK UPTIME GUARANTEE
We only use enterprise-class hardware in our dedicated servers and offer a four (4) hour hardware replacement. Throw in IPMI for remote management, support for public and private networks, free operating system (OS) re-installs, and SATA, SAS & SSD (including NVMe) storage. Call 1-877-477-9454 or contact us. For everything from gaming servers to cheap dedicated servers, we're here to help.