Is your website optimized to capture organic search traffic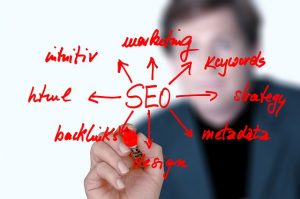 The most well thought out (content) and beautifully designed websites may NOT be optimized for organic search traffic. Do your sites rank well? Have you pondered why your site doesn't fare as well as you've expected?
Capturing organic search traffic (not paid) to your website that produces results
Ideally, you'll need a compelling search result that causes a click through, but how does that happen? One very important component you'll need to analyze that no one tells you about: Your Meta Description.
Description
I always recommend managing your prospects expectations. Your description may not have a direct effect on Google's ranking, but it could project a powerful perception of your business' relevancy to a prospects search. Again, Google may boldface the searchers keyword in your description. I know when I type in a phrase, I look to see if the entire phrase is boldfaced, or simply pieces here and there. I perceive immediately, as I suspect others do, the level of relevance this site has to my interest. Managing your description to maximize relevant traffic (and ultimately conversions) is paramount to optimizing your website.
How is the description displayed on Google searches?
Google uses a combination of META tags or abstracts from your page to display the description of your site to the prospect – not always under your control. If you have a description META Tag, Google will likely use it or relevant phrases from it.
They often extract phrases from the body of your website, as well, usually from the first few paragraphs. To maximize the click through rate, use compelling and accurate descriptions on each page of your site that best match that individual page. On your home page, describe your website as a whole.
Google attempts to rank based on value to the end user so try to avoid market hype. Match your description to what the prospect will expect to see should they click through. Misleading your prospects is frowned upon. Place emphasis on providing benefits and solutions.
I'm often asked if phrasing is permitted. The answer is absolutely. Google limits the description META tag to approximately 150 to 160 characters – including spaces, so select your phrasing carefully – to match and flow with content on that specific page.
Optimizing descriptions
What's the end goal in getting any tangible results from ranking higher in the search engines? Of the few organic results that are currently listed on page one of Google SERPS (search engine results pages), why would anyone click through to your site and why that is important? Visibility is step one, while action is what produces ROI.
Prospects must actually click through to your site to become visitors, but what you're looking for or should be looking for are targeted visitors. This means people and businesses that were compelled to action, first via their search query and then by a call-to-action in the description of your site, wherever it's ranked by Google.
In sales, the odds of closing the sale diminish rapidly if you don't ask for the sale. You see, if you don't ask, the answer will almost always be NO.  If the offer is confusing, more often than not, you'll get the same NO.
With billions of dollars being spent annually online, not optimizing Meta Description could place your organization or business at risk of losing potential revenue and thousands of dollars in lost lifetime assets.
Compare these two descriptions:
Our floral department has a full assortment of flowers, from single red roses to full bouquets. We also carry vases and other floral accessories like balloons and ribbons.
We carry flowers for every occasion, from weddings to funerals. Experience the exotic beauty & aroma of our arrangements. Call us – we're here to help make your event rememberable. 555-555-5555
Of these two descriptions, which inspires prospects to visit their site and actually do something once they're there, other than just look around? The first simply summarizes what they carry, while the second appeals to a prospects sense of sight and smell and finishes with a call-to-action. Plus, by saying they're here to help make their event rememberable, they're saying their focus is on the client and not on the sale. They're offering solutions, and everyone who has ever taken Sales 101 knows that solutions oriented sales increases close percentages, and ultimately, the business's ROI (return on investment).
Many SEO experts believe optimizing Meta Description does ZERO to enhance your organic rankings
Some of these same experts lump Meta Description with No-Follow links, asserting, rather strongly that they don't help ranking organically, but anything that brings more traffic to your site, by whatever means, has an indirect result on your search ranking. If that increased traffic results in higher bounce rates, that's bad, but if it results in longer page views and lower bounce rates, that helps.
Some of this is just common sense. If a prospect is compelled to visit your site by reading the description of your site on a search query, that's a highly targeted visitor, and that's what we should all be working toward, to maximize our marketing efforts.
BROUGHT TO YOU BY PROLIMEHOST
We've been in the web hosting industry for over a decade, helping hundreds of clients succeed in what they do best and that's running their business. We specialize in Virtual Private Servers (VPS) and dedicated servers, with data centers in Los Angeles, Denver & Singapore.
VPS SERVICES: LIGHTNING FAST SSD VIRTUAL SERVERS
Our Virtual Private Servers all feature high performance Xeon processors and SSD storage in a RAID10 configuration to optimize your server's performance, which dramatically enhances visitor experiences on your site.
That speed is backed by unparalleled 24/7 support, featuring both outstanding response AND resolution times to maximize your uptime.
Now is the time to join the ProlimeHost virtual private server revolution.
DEDICATED SERVERS: BACKED BY A 99.9% SLA NETWORK UPTIME GUARANTEE
We only use enterprise-class hardware in our dedicated servers [1] and offer a four (4) hour hardware replacement. Throw in IPMI for remote management, support for public and private networks, free operating system (OS) re-installs, and SATA, SAS & SSD (including NVMe) storage. Call 1-877-477-9454 or contact us [2]. We're here to help.