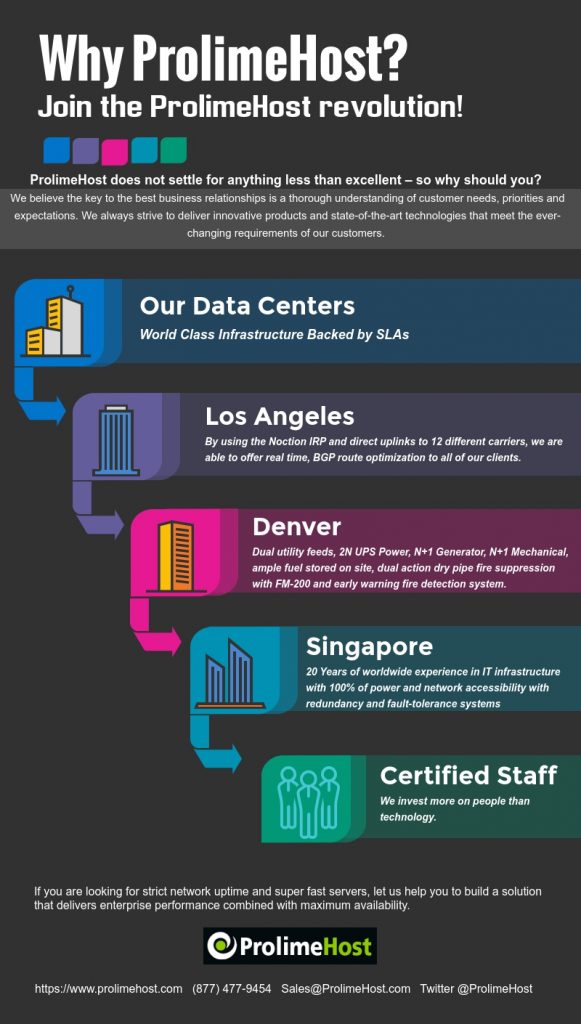 Join the ProlimeHost Revolution
This infographic touches on the basic reasons that every business or organization should look for when researching VPS or dedicated servers, and that is essentially some flexibility to specifically match their web hosting requirements, all the while providing best-of-class enterprise solutions.
We often get asked if we have a direct route to China. 
Yes, we employ a high performance BGP route optimized (Los Angeles, California) network offering the best possible routing to all locations. By using the Noction IRP and direct uplinks to 12 different carriers, we are able to offer real time, BGP route optimization to all of our clients. We optimize our paths as often as possible to continually provide our clients the best available routes.
With connections to major carriers like China Unicom, Level3, Verizon, NTT, PCCW Global, Century Link and many others, including the Any2 peering fabric and many APAC ISP's, our network is hard to beat.
Asia Optimized
Beware of providers featuring the buzz phrase of  "Asia Optimized" as some just claim it because they are on the West Coast, while others only do light route changes. What we offer is real time, high-performance BGP route optimization and a direct link to (major carrier) China Unicom as well as peering to many APAC ISP's . We look forward to also providing a direct link to China Telecom soon.
Our network is currently comprised of:
High-Performance BGP Route Optimized Los Angeles California Network*
Comcast – 1x – 10gbps link
Level 3 – 1x – 10gbps link
XO – 1x – 10gbps link
PCCW Global – 2x – 10gbps link
Telia – 2x – 10gbps link
GTT / TiNet – 2x 10gbps link
AceDatacenter mix 2x – 10gbps link
Any2 peering fabric – 1x – 10gbps link
NTT – 2x – 10gbps link
China Unicom – 1x – 10gbps link
Hurricane Electric – 1x – 10gbps link
Cogent (mainly peering / only for optimized routes) 1x – 10gbps port
Route Optimized by Noction
99.99% Network Uptime:
Keeping our system functional, while providing non-stop operations is number #1 on our list of priorities. We have invested a major portion of our resources to attain the maximum availability. We are offering our customers a guaranteed 99.99% network uptime with our service level agreement. For this specific reason we have engaged enterprise hardware supported and monitored for trouble-free performance by our skilled staff available around the clock.
BROUGHT TO YOU BY PROLIMEHOST
We've been in the web hosting industry for ten years, helping hundreds of clients succeed in what they do best and that's running their business. We specialize in Virtual Private Servers (VPS) and dedicated servers, with data centers in Los Angeles and Singapore. In fact, we're running a promotion on our Los Angeles dedicated servers right now.
VPS Services: Lightning Fast SSD Virtual Servers
Our Virtual Private Servers all feature high performance Xeon processors and SSD storage in a RAID10 configuration to optimize your server's performance, which dramatically enhances visitor experiences on your site.
That speed is backed by unparalleled 24/7 support, featuring both outstanding response AND resolution times to maximize your uptime.
Now is the time to join the ProlimeHost virtual private server revolution. Starting at just $19/Month AND we're still offering Double Bandwidth and RAM on all of VPS packages (limited time offer).
Dedicated Servers: Backed by a 99.9% SLA network uptime guarantee
We only use enterprise-class hardware in our dedicated servers and offer a four (4) hour hardware replacement.
Throw in IPMI for remote management, support for public and private networks, free operating system (OS) re-installs, and SATA, SAS & SSD storage.
Plus, the E3 1230 and 1270 v6 processors are now available at great pricing!
Call +1 877 477 9454 or email us at Sales@ProlimeHost.com. We're here to help.