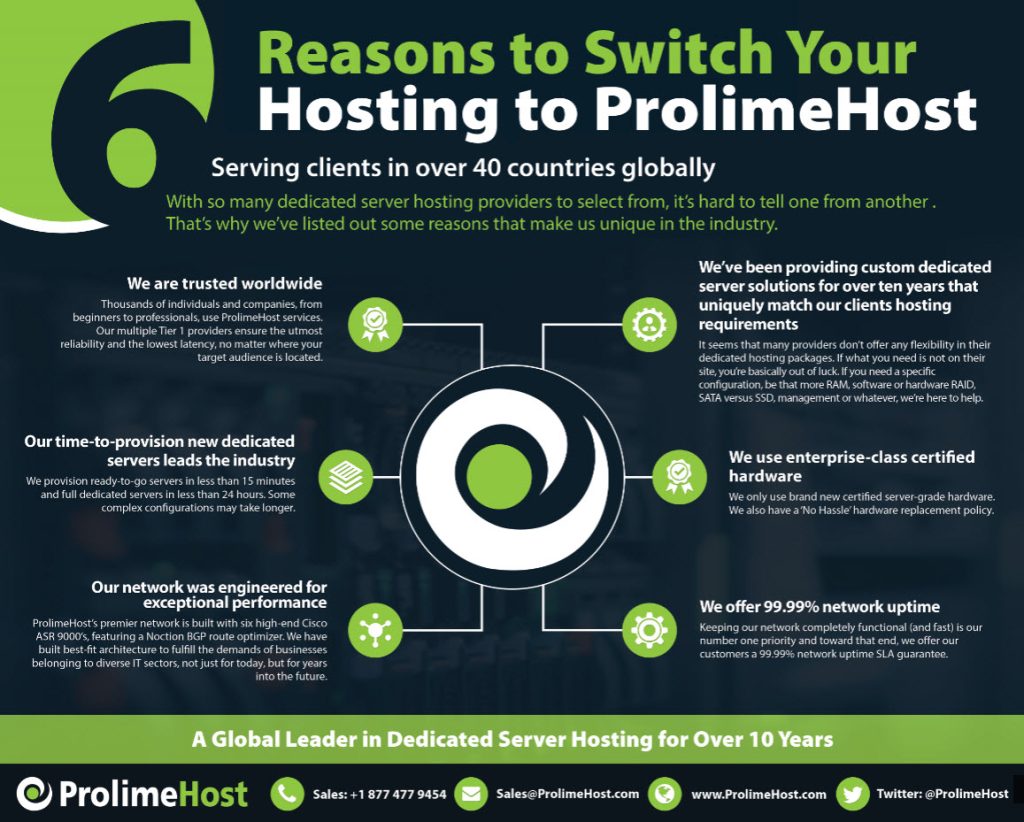 6 Reasons to Switch Your Hosting to ProlimeHost
Serving clients in over 40 countries globally
With so many dedicated server hosting providers to select from, it's hard to tell one from another. That's why we've listed out some reasons that make ProlimeHost unique in the industry.
We are trusted worldwide
Thousands of individuals and companies, from beginners to professionals, use ProlimeHost services. Our multiple Tier 1 providers ensure the utmost reliability and the lowest latency, no matter where your target audience is located.
We've been providing custom dedicated server solutions for over fifteen years that uniquely match our clients hosting requirements
It seems that many providers don't offer any flexibility in their dedicated hosting packages. If what you need is not on their site, you're basically out of luck. If you need a specific configuration, be that more RAM, software or hardware RAID, SATA versus SSD or NVMe, management or whatever, we're here to help.
Our time-to-provision new dedicated servers leads the industry
We provision ready-to-go servers in less than 15 minutes and full dedicated servers in less than 24 hours. Some complex configurations may take longer.
We use enterprise-class certified hardware
We only use brand new certified server-grade hardware. We also have a 'No Hassle' hardware replacement policy.
Our network was engineered for exceptional performance
ProlimeHost's premier network is built with six high-end Cisco ASR 9000's, featuring a Noction BGP route optimizer. We have built best-fit architecture to fulfill the demands of businesses belonging to diverse IT sectors, not just for today, but for years into the future.
We offer 99.99% network uptime
Keeping our network completely functional (and fast) is our number one priority and toward that end, we offer our customers a 99.99% network uptime SLA guarantee.
BROUGHT TO YOU BY PROLIMEHOST
We've been in the web hosting industry for over a decade, helping hundreds of clients succeed in what they do best and that's running their business. We specialize in Virtual Private Servers (VPS) and dedicated servers, with data centers in Los Angeles, Denver & Singapore.
VPS SERVICES: LIGHTNING FAST SSD VIRTUAL SERVERS
Our Virtual Private Servers all feature high performance Xeon processors and SSD storage in a RAID10 configuration to optimize your server's performance, which dramatically enhances visitor experiences on your site.
That speed is backed by unparalleled 24/7 support, featuring both outstanding response AND resolution times to maximize your uptime.
Now is the time to join the ProlimeHost virtual private server revolution.
DEDICATED SERVERS: BACKED BY A 99.9% SLA NETWORK UPTIME GUARANTEE
We only use enterprise-class hardware in our dedicated servers and offer a four (4) hour hardware replacement. Throw in IPMI for remote management, support for public and private networks, free operating system (OS) re-installs, and SATA, SAS & SSD (including NVMe) storage. Call 1-877-477-9454 or contact us. For everything from gaming servers to cheap dedicated servers, we're here to help.

Steve's been in the web hosting industry since 1997, helping clients optimize their online solutions from shared hosting and colocation to VPS and dedicated servers.

ProlimeHost specializes in dedicated servers, with data centers in Los Angeles, Utah and Denver. Call +1 877 477 9454 or email us at Sales@ProlimeHost.com. We're here to help.