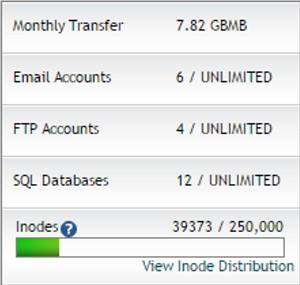 For those of you who have been in the web hosting industry for any length of time, I'm sure you've seen the inode limits some providers impose on their web hosting plans. If you exceed those limits, well it isn't pretty. To the day in and day out Internet user, inode is a term not widely recognized.
Inodes can be thought of as a database of information
In Linux servers, inodes are filesystem objects, sometimes called index nodes or i-nodes. You can think of inodes as a file structure, or possibly a database of all the information on a server, other than file names themselves or the contents of actual files. What this database does is identify the owners of the files, their permissions and miscellaneous metadata. Essentially, every image, file, email, directory and symbolic link on your Linux server requires an inode.
What cPanel recommends for allotments of inodes
Inodes are allocated on cPanel, which recommends actually setting up more than the default allocation of inodes on your Linux server's partitions. Typically, an allocation of inodes is assigned when the file system of a server is created, and that usually accounts for 1% of total size.
cPanel goes on to recommend if everything is installed on just one partition, that the base WHM & cPanel requires at minimum one million inodes, plus at minimum fifty thousand inodes per cPanel account used for hosting.
How are inodes structured?
A table of inodes is located on a specific section of the server whereby an inode number can then index that. You can find a file's inode number by using the ls -i command. Files that are stored on the HDD can be tracked via inodes which store metadata that points to files, directories or objects. Of the 128 bytes used in each metadata entry, certain attributes are included such as the inode number, ACL, file size, number of blocks, file access time, owner, permissions, file deletion time and status flags, among others. What metadata does not include are the file names themselves.
What happens when the inode structure is full?
It is possible to fill an inode structure before the space on the hard drive is filled. Why? The inode structure is limited in size, so if the drive contains lots and lots of small files, each taking up 128 bytes of the inode structure, you won't be able to create more files on the disk. The workaround is simply to free up inode storage.
Brought to you by ProlimeHost
We've been in the web hosting industry for over a decade, helping hundreds of clients succeed in what they do best and that's running their business. We specialize in Virtual Private Servers (VPS) and dedicated servers, with data centers in Los Angeles, Denver & Singapore.
VPS Services: Lightning Fast SSD Virtual Servers
Our Virtual Private Servers all feature high performance Xeon processors and SSD storage in a RAID10 configuration to optimize your server's performance, which dramatically enhances visitor experiences on your site.
That speed is backed by unparalleled 24/7 support, featuring both outstanding response AND resolution times to maximize your uptime.
Now is the time to join the ProlimeHost virtual private server revolution.
Dedicated Servers: Backed by a 99.9% SLA network uptime guarantee
We only use enterprise-class hardware in our dedicated servers and offer a four (4) hour hardware replacement. Throw in IPMI for remote management, support for public and private networks, free operating system (OS) re-installs, and SATA, SAS & SSD (including NVMe) storage. Call +1 877 477 9454 or email us at Sales@ProlimeHost.com. We're here to help.