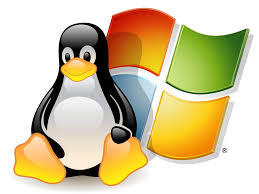 When forced to select between the two, the choice between Linux servers and Windows servers depends greatly on the types of applications you plan to run on your dedicated server.
Personal computers are very different from dedicated servers
This can be confusing to many outside of the hosting industry since Windows is the defacto operating system for millions of personal computers, but they are vastly different from dedicated servers hosted at a service provider's data center.
Personal computers were engineered to be operated by a single user and thus spend the majority of time sitting idle, waiting for some command to bring them to life. In contrast, a dedicated server responds to multiple requests from lots of users and the quicker it can respond to those requests, the better.
Some similarities and differences between Linux and Windows servers
Both Linux dedicated servers and Windows dedicated servers are designed to adequately handle heavy loads executing applications like web pages, email, databases, tweets, videos and much more.
There are differences though between the two and the first of those is price, and that becomes very 'real' when you're in a budget crunch. Windows is a proprietary software which costs considerably more than a cPanel enabled dedicated server running on Linux. Price can't be the lone consideration though, because if you need to run services like MSSQL, MS Access, Active Server Pages (ASP), remote desktop or Visual Basic, those are specific to Windows servers.
The hosting industry generally prefers cPanel running on Linux
While many in the hosting industry prefer cPanel running on Linux, there are pluses and minuses to each. Discussions about security always pops up when comparing the two, but security should be a non-issue as both can be locked down tight. The learning curve to manage a Windows server is higher and more complex, meaning either your hosting provider's staff or your IT department needs to well versed in dedicated server management.
cPanel control panels running on Linux versus Plesk control panels running on Windows
While cPanel is compatible with Linux, RedHat and Centos operating systems, the integration between Windows and Plesk is substantial providing full integration with Microsoft SQL Server.
Some advantages of cPanel
cPanel loads quicker than Plesk
For ease of accessibility, it aggregates functions into high level groups
cPanel's interface facilitates access to support services from your hosting provider via email. This can be accomplished by entering your name, email address and issue.
It easily integrates with third party applications like custom-built auto script installers.
It has a simple icon-based interface which allows clients to locate the information they want quickly.
It possesses enhanced security with IP deny manager, SSH, SSL leech protection and GnuPG keys
Some advantages of Plesk
Plesk provides more detailed support requests
It facilitates management of both SQL Server and MySQL from the web browser
It is strongly integrated with Windows
It's intuitively easy to use
Its ease of use with some unique features such as key auto-update mechanism, auto-component updater and migration manager
It's focus is on website management
Some familiarities between cPanel and Windows dedicated servers
Both types of dedicated servers support
DNS
email
FTP
database
IPV6 and
multi-user functionality
My recommendation is to match your specific hosting requirements to the operating system and control panel that fits best. Remember, if you're running proprietary Microsoft software like ASP or MSSQL, then you'll need a Windows dedicated server.
If you're in doubt, ask your prospective hosting provider to discuss your application and recommend a solution that works for you.
Brought to you by ProlimeHost
We've been in the web hosting industry for ten years, helping hundreds of clients succeed in what they do best and that's running their business. We specialize in dedicated servers, with data centers in Los Angeles, Phoenix, Denver and Singapore. The E3 1275 v5 processor is now available at great pricing, giving you the ability to add up to 64GB of DDR4 ECC RAM. Call +1 877 477 9454 or email us at Sales@ProlimeHost.com. We're here to help.